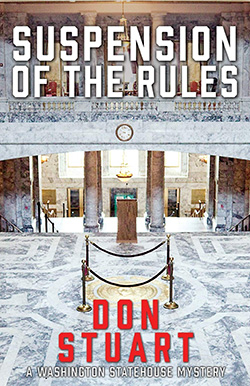 When a respected dairy farmer drowns in his own livestock waste lagoon, the Yakima County Sheriff rules the death an accident. Meanwhile, professional lobbyist Sandy Dalton has taken on a new client: a group of conservation-minded farmers who wish to offer a pro-agriculture/pro-environment bill in the Washington State Legislature. As he lobbies this bill, Sandy inexorably discovers several potential motives for the dairy farmer's murder. None, however, seem significant until, in a moment of inspiration, he realizes that the deceased farmer was NOT alone at the time that he died. He also discovers that his investigation may have placed his life and the lives of those close to him in danger. Sandy ends up identifying the killer, but in doing so, he also uncovers a scandal that will shake the state legislature to its core.
REVIEWS: "Suspension of the Rules is a captivating page-turner, suspenseful to the end, and highly recommended." According to the Midwest Book Review – Vol 16 # 8 – August 2021.
If you'd enjoy a good mystery set in a chaotic state legislature and focused on agricultural and environmental public policy, this book was written for you. It is published by Northwest Corner Books and is now available from on-line and independent bookstores.
Buy it:
Amazon.com | Barnes & Noble | Bookshop.org | Kobo | Book Depository