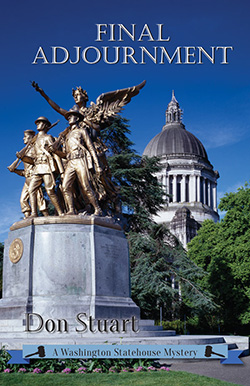 The scenic campus of the Washington state capitol is outwardly calm, but the Legislature is in session and no one better understands the turmoil that swirls beneath the surface than professional lobbyist Sandy Dalton. In the middle of a busy day, a powerful senator is found dead in his office with an antique Native American hunting knife in his chest. Sandy becomes the prime suspect in the case, having had an argument with the senator the morning of the murder and been the last to see him alive, but he isn't the only one to have disagreed with the senator's policies. The resulting tectonic shift in the political landscape turns the legislative world upside down.
As motives, conflicting testimonies, and hints of behind-the-scenes blackmailing add up, Sandy embarks on a struggle to clear his name. It seems almost everyone in Olympia politics has a stake and almost anyone could be the killer.
Buy it:
Amazon.com | Barnes & Noble | Bookshop.org | Kobo | Smashwords
---
An Excerpt from the Book
When I saw the TV evening news on the Monday of the week following the Senator's death, I knew we were in for it. The coverage could not have been more cleverly designed to gin up public outrage.
How could such a thing happen right on grounds of our own State Capitol?
Who could do something like this; was it a terrorist?
Why hadn't the authorities identified the killer and made an arrest?
What impact would this have on the orderly conduct of government?
Commentators had picked it up and were adding fuel. But the origins were clear to anyone inclined to look. There were always one or two highly vocal elected officials who loved to pose as brave guardians of liberty standing up in the face of personal risk.
By Tuesday, the actual absence of any such existential threat had apparently become irrelevant. Its absence did not prevent the Senate, that morning, from adopting a floor resolution for a "thorough and complete investigation" into the death of Senator Abel Mortenson and for recommended "changes in law or appropriation which might be needed to assure the safety of our public officials" or which might be required to "create a secure climate within which elected representatives might, effectively and without intimidation, conduct the people's business."
---
Comments and Accolades for Final Adjournment
Ralph Munro, former Secretary of State for the State of Washington
Excellent book. A great mystery right to the very end. And the reader learns a lot about the intricacies of the legislative process. Loved it.
*****
Mark Clark, Executive Director, Washington State Conservation Commission
(The book's) situations just rang too true for me . . . in most cases I was putting real names to the faces. I loved it. I would give it a ten.
*****
Allen William Hayward, Senior Legal Counsel to the Washington State House of Representatives for 34 years and author of: My Ride: The People, Procedures and Politics of Lawmaking at our State Capitol
I have read and loved your most recent book. The cross pressure that public policy issues can generate was explained far better than any political science class could ever accomplish. I . . . applaud your work.
*****
Denis Hayes, President of the Bullitt Foundation, author, founder of Earth Day
In Final Adjournment, one learns about the inner workings and peculiar personalities of a state legislature … The legislature is seen through the eyes of a fishing industry lobbyist, doing his best to navigate between the dangers and the opportunities posed by powerful, impulsive people.
*****
Sharon Dunn, former Museum Director and Financial Manager
How is sausage made – we're always told we don't want to know about either sausage making or how our government works – but you will enjoy knowing more about how a state legislature works when a murder occurs in the Washington State Capital. Don Stuart's "Final Adjournment" is a great read with a twisty plot and a surprise ending. Don's varied experience allows him to write from an unusual base of knowledge. I am hoping Don will consider a series and bring us more of Sandy Dalton – a character we come to care about through his intelligent delving into the murder.
*****
The following reviews also appear on Amazon.com:
Trinity Hill
3.0 out of 5 stars Good read, well crafted story line
February 15, 2018
The author takes the reader through the nuances of state and local issues during a legislative session and beyond as only an insider could. With full understanding of the issues swirling in the beautiful waters of Puget Sound and the rivers east `o mountains, Stuart has woven a story line relevant today and for decades to come.
The lead character was one to look for in the future.
*****
Debra K. Zydek
5.0 out of 5 stars Great characters and great murder mystery investigation.
February 7, 2018
I am a mystery book fan, and Don Stuart's book immediately grabbed me with the opening line. The main character, Sandy, was well developed and likeable, something I prefer in my books. The author effectively set the stage with informative and accurate descriptions of people, places, and things. I came away with a deeper knowledge and understanding of a lobbyist's role and issues surrounding commercial, sports and Indian rights fishing. And with all this, he also wove a great murder mystery investigation story with clues (some admittedly missed) and twists and surprises. I truly hope there will be a sequel and series after this inital offering. The book has a very well thought out cover as well. Good job!
*****
Gary E
5.0 out of 5 stars I really enjoyed this book and highly recommend it
January 7, 2018
A fast paced murder mystery with well developed characters. I also learned about some of the machinations of our state government and how much work it takes to move legislation. I really enjoyed this book and highly recommend it.
*****
Sherry
5.0 out of 5 stars It was very interesting. I learned a lot about …
February 16, 2018
It was very interesting. I learned a lot about the fishing industry and had no idea who the murdered was until the end.
*****
Capt. Bob
4.0 out of 5 stars Political life
November 21, 2017
A good review of political life and the trade offs and compromises required, not just on Washington but in any public endeavor.
*****
George G.
4.0 out of 5 stars The plot moves at an ever faster pace and has a wonderful ending. Nice work Don
January 12, 2018
A well-crafted book with lots about the Washington fishing industry and related politics. The plot moves at an ever-faster pace and has a wonderful ending. Nice work Don!
*****
Ruth H.
5 out of 5 stars. This book is absolutely wonderful!
This book is absolutely wonderful! I am not a big mystery fan but I was absolutely hooked. Somehow, I did figure it out but I absolutely couldn't figure out why. Really a strength was character development: the sleezier lobbyist, Sandy the lobbyist-turned-gumshoe, Senator Mortenson. It's also clear that the author really knew his way around the Washington Statehouse. By far, though, the reason I liked it the most was because it made me really learn about fishing issues and the rights of Native Americans. Actually, I have a cabin that caters to fly fishermen and learned an incredible amount of useful information. Absolutely recommend this book.