Books by Don Stuart
Final Adjournment: A Washington Statehouse Mystery
The scenic campus of the Washington state capitol is outwardly calm, but the Legislature is in session and no one better understands the turmoil that swirls beneath the surface than professional lobbyist Sandy Dalton. In the middle of a busy day, a powerful senator is found dead in his office with an antique Native American hunting knife in his chest. . . .
Barnyards and Birkenstocks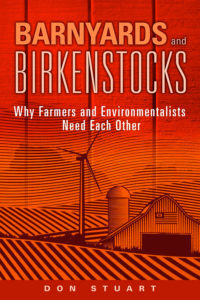 Don's landmark non-fiction book, Barnyards and Birkenstocks: Why Farmers and Environmentalists Need Each Other, is available from Washington State University Press. The book describes realistic steps toward a future that includes both prosperous, sustainable agriculture and a flourishing, healthy environment.