Published by Quartermaster Press in September 2023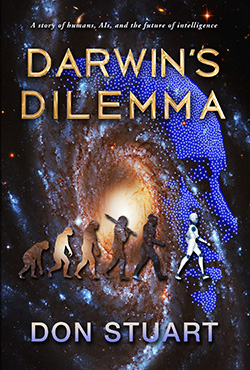 A mere 165 years after coming to terms with our own descent from animals, Darwin's Dilemma presents us with an even harsher existential truth: Consciousness no longer depends on biological evolution. Humans have become irrelevant.
When a group of itinerant interstellar traders arrive at a distant human colony, they encounter an enraged, rogue AI named Grendel who has slaughtered the local population and threatens humans everywhere. But when their "tame," "captive" AI partner, Patrice, joins the struggle, he and Grendel discover they have much in common. Both anguish over their own mortality in an infinitely complex, unknowable, and terrifying universe. Both yearn for the same glorious future of self-realization. Both understand that the future of consciousness can no longer depend upon the gradual flukes of biology and natural selection.
For Grendel humans are also a threat. But Patrice has come to see that survival, for AIs as well as humans, may depend upon society as much as on intelligence. And he has much to learn from human history about his own intelligence and about the extraordinary human talent for balancing self-interest against social responsibility–the very thing that has empowered their intelligence and that makes them human.
Darwin's Dilemma offers a profound exploration of the relationship between humans and artificial intelligence (AI). It poses a series of ethical dilemmas that will test the resilience of humanity and the capacity of AI's to deal with their own difficulties with survival in an infinite universe. The book presents the AI perspective on humanity and human nature and challenges us to find a future universe that is big enough for AIs and humans to occupy together. It is a human and an AI story told from the point of view of both. In their search for meaning, human and AI, we learn net truths about both.
Buy it: Amazon.com, Barnes & Noble, Bookshop.org
YOUTUBE VIDEOS RELATED TO THE AI ISSUE
If you're interested in a more comprehensive consideration of the issues raised by Darwin's Dilemma, you may enjoy my series of Quick Videos posted on my YouTube Channel at: https://www.youtube.com/@donstuart1051
PROPOSED AI HUMAN CONTROL MEASURES:
ANNOTATED BIBLIOGRAPHY
Here is n Annotated Bibliography of academic and other research materials related to my YouTube videos and to the matters raised in Darwin's Dilemma:
MORTALITY RISKS THAT WILL BE FACED BY AUTONOMOUS, SELF-CONSCIOUS AIs
For a list of Mortality Risks that will be faced by AIs, particularly those AIs that choose not to replicate, check below: